On-page SEO Techniques To Boost Website Ranking
Publishing High-Quality Content
When working with On-Page SEO, you need to keep in mind the following necessities:
A website with excellent content can do great without Search Engine Optimization. But. bad content will not survive even with SEO. A website with great content can enhance even more beneficial with SEO.
You may think what is acknowledged as great content?
Original contents like (articles, text, images, videos, presentations, infographics, comments, etc.) – No rewrites or copies of existing articles on google.
Content exclusiveness – Even if it is your owned content and if you have previously published it on a different website then it is not fit for your new website.
Includes text elements – Write text to follow your non-text content. For, eg. If you add images, try to explain in words what the image is all regarding.
Useful contents – Don't write content for the purpose of publishing. Before publishing the content make sure that readers and websites get value out of it.
Well Researched Content – Users or search engines don't want to read quickly cooked contents.
Long content is determined to rank better than short content.
Unprejudiced content – If you are about to write on certain topics make sure that what your writing is justified.
Optimized Page Titles and Meta Descriptions
This is very powerful for on-page SEO. When search engines 'crawl' your pages, they review the page title and the description of a page.
This is done because search engines need to know what the page is all regarding and then based on other factors like off-page SEO, domain authority, competition, etc., search engines will rank your web page (for various keywords) in their index.
Page Title
Every page must have a distinct title that will help both users and search engines know what the page is about.
A page with the title "Best Interior Designer in Bangalore" is more useful than a page with the title "index.html".
The page title happened to be and still is one of the most crucial on-page SEO factors.
Page title optimization Tips
Adding keywords to the beginning of page titles in very important – Whenever likely add your target keywords to the opening of the page title. This encourages search engines to understand right from the start what keywords the page is targeted.
This does not mean that you should start doing keyword stuffing by crossing the great content line. Not having a keyword at the beginning is not the end of the world. Simply make sure your target keyword is a part of the page title.
A page title need not be very long, a 60 characters short and descriptive title is a good sign for both users and search engines.
Having numbers and power words like "Ultimate, actionable, amazing, checklist, etc.", make titles more attractive and this improves the CTR (Click Through Rate).
Including your domain in the title important because this is automatically added by Google.
Meta Descriptions

Optimized Meta Description
The page description is that, which searcher will see in the search engine results page. Being more descriptive, up to 200 characters, and unique for each page is the best opportunity to boost your page and convert users to click your link willingly than deciding one of the other links.
Also, note that Google always does not display the meta description we provide, many times search engines use an automated description if they believe that it is more useful for the search intent.
Meta description Optimization Tips
Try to avoid auto-generated descriptions that sometimes don't make sense.
Adding your target keyword(s) in the description highlights the search terms both in the title and description and makes descriptions more appropriate and interesting to the searcher.
Optimized Page Content
Content SEO is another part of on-page SEO that has to be done with optimizing the original content for your target keywords.
Before publishing content, the primary step is to do your keyword research.
This is important to find out what search phrases users are typing in the search box and build content that satisfies the search intent.
Once decided on your target keywords, you should create a list of LSI keywords (related keywords), and use them in your descriptions, headings, and page content.
Do you know why LSI keywords are important?
Because with the initiation of Rank Brain, search algorithms of Google have become more understanding and besides keyword relevancy in your content, they are also studying for topic relevancy.
This means that to make your content more suitable to broad topics, you need to decorate your content with LSI keywords.
There are numerous ways to find out relevant keywords that are considered by Google to your target keywords.
These three areas provided by Google, ie Google suggest, People also ask for and Related Searches are the best way is to take advantage of LSI Keywords.
Google suggest
When you type a search query in Google search, you are given a list of likely phrases to use in your search. These are excellent keywords to consider in your content.
Google Keyword Suggest
People Also Ask
When you search for a query, Google shows you the results and among them, a section called "People also ask". These are great content to use in your sub-headings.
People Also Ask
Related Searches
Google also shows a list of related searches at the bottom of the search results,
Google Related Keywords
The best way is to mention some of the above words in your content without doing keyword stuffing.
Headings and Content Formatting
H1 Tags
A webpage needs to have a proper content format, which needs to include heading (h1) and subheadings (h2, h3).
Either you can have the same <title> and <h1> tag or provide an alternate title for the headings.
Remember that search engines display in the search results what they find in the meta title and not the h1 page title.
Concerned to other headings (h2, h3), the things you need to consider are the following:
Make sure your subheadings are interesting and useful for users who like to read an article.
Use subheadings hierarchically
The subheadings are a great place to use related keywords/ LSI keywords in your content.
Content Formatting
Make sure that content is readable than just throwing text on a page
Using bold, underline, or italics to highlight the important parts of a page would make content more attractive.
Use a good font sizes (at least 16px for body texts).
Split the contents into small paragraphs (3-4 lines max).
Make sure the texts are easier to read by providing appropriate spacing between the lines and paragraphs.
Make use of CSS to create sections that stand out.
Images and Multimedia Elements
Images are very relevant for presentation views. They make webpages more attractive and simpler to understand your content.
The most significant difficulties with images are that search engines don't read them and that they add a bit lag to the loading pace of a webpage.
Best practices for SEO Optimizing Images
If you are likely to use an existing image from the web you need to provide a reference to the source image.
The smaller the size (in bytes) of the image the better.
Using an ALT tag to define the images helps search engines to determine what the images are about.
Don't just name your images randomly like 'image.jpg' but try to use describing filenames, for example, 'man-driving-motorcyle.jpg'.
Using a Content Delivery Network will produce your page to load faster if you have a lot of images on a single page. In easy words, your images will be hosted and served by the number of servers at different locations to speed up the loading manner.
Optimized Website URLs
Optimizing your URLs is very significant for maximum SEO impact. This has two parts. The first is URL optimization and the second is URL structure.
URL Optimization
SEO Friendly URL Optimization
A good URL should be less than 255 characters and use hyphens to '-' separate the words.
Just similar to the page title, an SEO friendly URL has to be short, descriptive and includes your target keyword.
URL Structure
The URL structure should simulate the original structure of a website.
Best practice for optimizing your URL structure is to make use of categories – Grouping your webpages into categories can help search engines and users find what they need quicker.
For eg: A Warehouse with all the items assigned in a dedicated category is much easier to find than a warehouse with lots of uncategorized items.
A good category structure is not to go over two levels
For example
Homepage > Social Media > Facebook > Article
and not
Homepage > Social Media > Facebook > How To > Article
Breadcrumb is more helpful for users to navigate on your website.
Internal Links
Linking to other pages within your website is like building your own web and it is very important in on-page SEO.
The primary step a search engine spider will take once they find a webpage, is that they follow both internal and external links they find on that page.
So, when search engine spider arrives at your page and if the spider doesn't find any links within the text they will just read your page and go.
If your webpages have internal links leading to other pages within your website they will take those pages into the record.
It's one of the ways to let search engines know about other pages on your website. As defined earlier when search engines find a page with links, they will go and read those contents too.
Every website has important pages that are more valuable than others. It's also a means to indicate search engines that your most relevant pages are.
It's also has been a way to decrease the bounce rate by making the users spend time on your website and increase the number of pages per visit.
Best practice for internal linking:
Don't use keyword stuffing in internal links rather use naturally.
Add internal links only when helpful for your reader
No more than 6 internal links for 1500 words page (based on any research or studies)
Internal links in the main body of your webpage are more effective than links in the footer or sidebar.
Using External Links
Right after the announcement of Panda and Penguin, a lot of SEO masters are scared to link to other websites. Others assume that this will trigger a Google penalty which is wrong.
By connecting to high-quality websites, you increase the loyalty of your content which is really good for SEO.
Also, the external link is a way to understand Google more about the subjects of your content.
Page Loading Speed
Last but not least, two SEO methods that are enhancing more and more significant are speed and mobile-friendliness.
Google is spending a huge sum of money to make the web react more quickly.
Today every webmaster talks about the influence of speed and their desire to add the fastest webpages in their index.
Google officially added speed as one of the distinguished ranking factors, in order to 'force' website masters to take speed into the record.
So website speed really does mean when it arises to SEO and ranking.
Taking into account Google's guidance it is important to make sure that your webpages load as fast as possible. Having faster loading websites is really good for customer retention and conversions also for SEO.
Bounce Rate and Page Speed
Responsive Website / Mobile Friendliness
Today Approximately 60% of the searches are happening from mobile devices. This indicates that if your website is not responsive or mobile-friendly, you are already losing the potential traffic to your competition.
How should you tackle this?
Make sure that your website is responsive to multiple screens. You can check the website with the Google mobile-friendly tool and fix possible problems.
One step further, test your website on mobiles, as a real user would likely do, and make sure that everything on the website is exposed perfectly including your Call To Action buttons.
In common websites with a responsive design, they have zero worries concerning mobile-friendliness.
Commenting and On-Page SEO
Many people out there consider that with the rise of social media blog commenting is no longer relevant, but they are wrong, it matters a lot for ranking signals.
They are still important.
"As stated by Google's Gary Illyes, it's a piece of clear evidence that users like your content and interaction with the webpage, and this can actually encourage your SEO.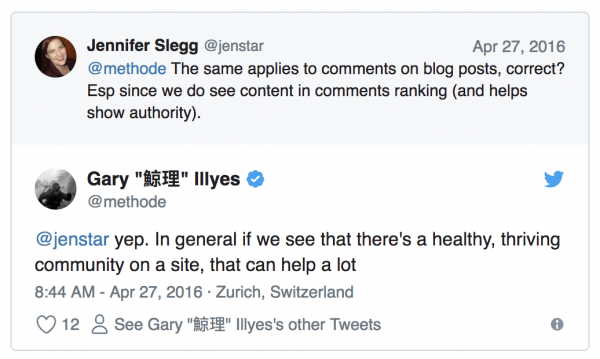 Commenting and SEO
Before posting new comment users will apparently read the present comments and this leads a way to increase the time spent on your website.
Make the best use of commenting part by following these simple practices:
Moderate comments before publishing
Avoid comments that are too common to publish
Always approve comments that add value and are related to the content
If users don't use a real name, don't approve comments
Replying to comments will inspire more users to comment.
Share This Post If you learned some extra muscle!
Subscribe To Our Newsletter
Get updates and learn from the best
Do You Want To Boost Your Business?
drop us a line and keep in touch